[tags art, art pr wire, contemporary art, news, press release, vernissage,] [delay +6 hour]
---
Share this on Facebook 
      Share this on Twitter 
BAU-XI TORONTO
DREW BURNHAM     SILENT STORIES
FEBRUARY 22 – MARCH 8, 2014

The Boardwalk Diner, Sullivan Bay, oil and acrylic on canvas, 36 x 41 inches, $10,200 CAD
Opening Reception at Bau-Xi Gallery Toronto: Saturday, February 22nd, 2-4 pm.
Drew Burnham is well-known for his unique portrayal of the West Coast landscape in all its grandeur. Vivid colours, stylized forms, and liquid lines make the paintings jump to life. The paintings seem to pulse with an inherent rhythm as the artist employs his own highly recognizable visual vocabulary. With an ever-increasing demand for his work, Burnham has experienced sold out shows for years. This new exhibition of paintings 'Silent Stories', shows the artist at his finest. More…
---
BAU-XI VANCOUVER
ANDRE PETTERSON      IMPRESSIONS OF AFRICA 
FEBRUARY 22 – MARCH 8, 2014

Camouflage, mixed media on panel, 56.5 x 48 inches, $8,800 CAD
Opening Reception at Bau-Xi Gallery Vancouver: Saturday, February 22nd, 2-4 pm, main floor gallery, artist in attendance.
The latest series by internationally recognized Vancouver-based artist, Andre Petterson, features mixed media black-and-white images inspired by his time in Botswana, Zimbabwe, Namibia, and Cape Town.
"On safari, I encountered many animals but the two that offered me the most inspiration were the zebra and the elephant. It felt metaphorical, the black and white stripes of the zebra – similar, yet different, on each one. The power in numbers they possess as they crowd together in a hypnotic stance. They're ability to run and separate when threatened. The elephant, organic and powerful, quiet and determined, seems to own the landscape.
My inspiration comes from all of this and will result in a series of works, for the most part, in tonnes of black and white, in layers and groupings of images that will, collectively, become my African impressions."
Andre Petterson has exhibited in both private and public galleries in Canada and the United States. He is the recipient of The National Film Board of Canada Award, and has work featured in numerous private and public collections including Canada Council Art Bank, Canadian Airlines, Vancouver General Hospital, and Laxton & Company. More…
---
PAT O'HARA      RENEWAL
FEBRUARY 22 – MARCH 8, 2014

Window 1, acrylic on canvas, 36 x 36 inches, $3400 CAD
Opening Reception at Bau-Xi Gallery Vancouver: Saturday, February 22nd, 2-4 pm, upper floor gallery, artist in attendance
Pat O'Hara graduated from Emily Carr College of Art and Design with the Merit Award for painting in 1981. Her process of art making over the past 20 years has included painting on canvas or paper, cutting, layering, collage and weaving canvas.
In her latest series entitled "Renewal" O'Hara explores concepts of changes and revitalization using abundant swirls of white pigment as a vehicle.  Veils of zinc and titanium white unfold to reveal pure reds, blues and yellows. Surprise elements of color are moved by large and very small brushstrokes of white, playing upon each other to create exciting movement
Experiences of travel, emotion and environment determine the colour and image of her work. O'Hara states "The process of art making is a game of challenge, chance and obsession." More…
---
BAU-XI PHOTO
GROUP SHOW      GALLERY ARTISTS
FEBRUARY 22 – MARCH 8, 2014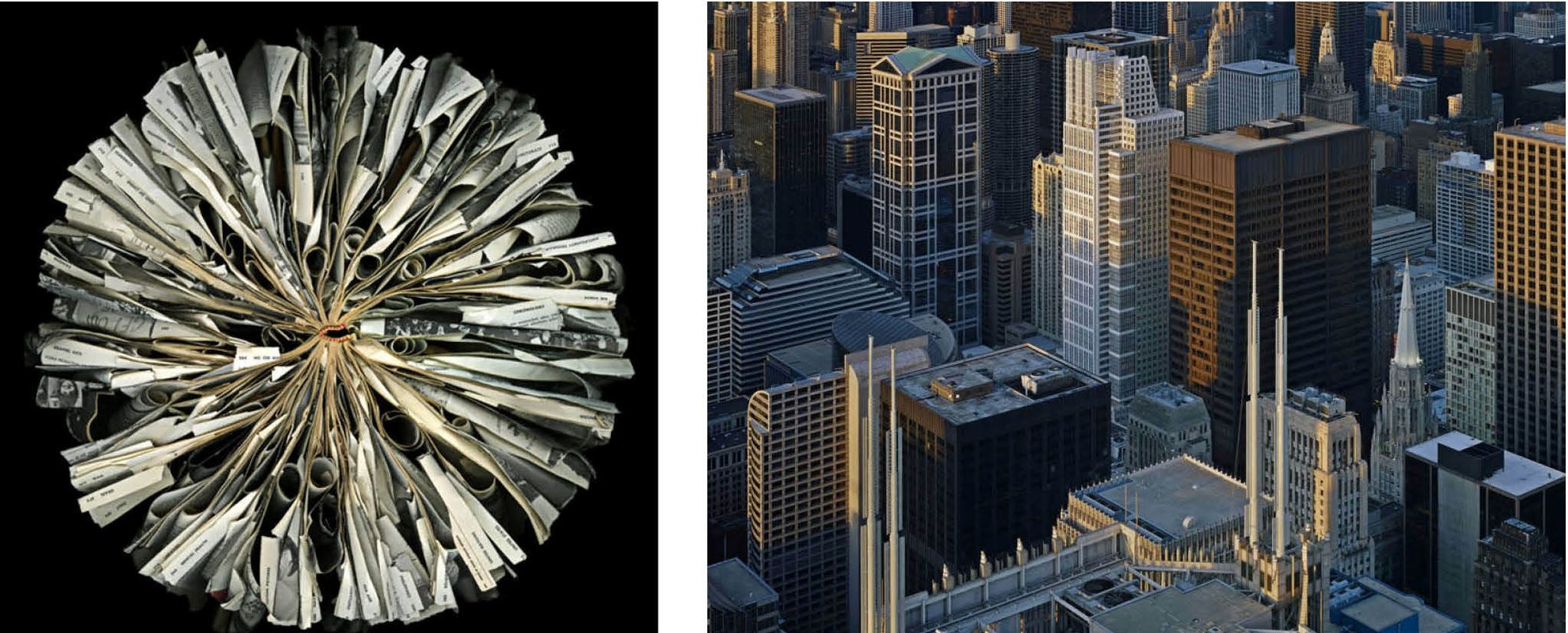 Left to right: Cara Barer, Michael Wolf
For the second half of February and beginning of March, Bau-Xi Photo will be exhibiting a group show, featuring various Bau-Xi photographers. A variety of styles and techniques will be on display, with a fresh selection of work by artists such as 
Michael Wolf
, 
Cara Barer
 and 
Joshua Jensen-Nagle
. 
More…
---
UPCOMING SHOWS
Coming up in March: Janna Watson at Bau-Xi Gallery Toronto, Tracey Tarling at Bau-Xi Gallery Vancouver, Joshua Jensen-Nagle at Bau-Xi Photo, and Tom Burrows at Foster/White Gallery, Seattle. Bau-Xi Toronto and Bau-Xi Vancouver will also be holding a concurrent memorial exhibition of Ted Godwin.
Contact us for exhibition previews.
---
CONTACT US:
BAU-XI GALLERY
340 Dundas St West, Toronto, ON
BAU-XI GALLERY
3045 Granville St, Vancouver, BC
BAU-XI PHOTO
324 Dundas St. West, Toronto, ON